We are working towards Organic and Large Area Electronics (OLAE) Innovation – RoLA-FLEX is an industry-driven project set to tackle challenges in OLAE performance and lifetime. With the potential to create sustainable manufacturing sites in Europe, OLAE advancements promise cleaner processes and new horizons in consumer electronics and renewable energy. 
In this context, our partner ASCA has developed cutting-edge OPV modules, available in a variety of shapes and dimensions here in the shape of a lotus flower, tailored to customer, product, and system requirements. The demonstrator shown is a temperature and rel. humidity sensor in the stand of the OPV-modules powered by the OPV-modules and transmitting its measurements wireless to a cloud service. These modules, designed for optimal low-light performance, have been developed in parallel with the RoLA-FLEX project, utilizing commercially available materials.
Simplified System Design: The full system design, encompassing sensors, energy harvesting electronics, energy storage, and OPV modules, is complex but crucial to meeting user demands. To streamline this design process, a specialized tool has been created to calculate essential parameters efficiently and ensure successful interactions among system components.
Promising Outlook: The components engineered throughout the project already support continuous service in smart city scenarios. Further advancements in RoLA-FLEX materials and processes, leading to enhanced efficiency in OPV modules, will enable even more applications. This includes smaller modules compared to ASCA's modules or operations in even lower light intensities. The adaptable system design tool facilitates efficient calculations and adjustments for the entire system.
Efficient System Summary: ASCA's OPV modules excel in low-light power scenarios, enabling the powering of two sensors for smart city applications. This system enables long-term monitoring and service. Additionally, a dedicated tool has been developed to efficiently calculate and tailor the full system, comprising OPV modules, energy harvesting electronics, and sensors, according to specific power requirements and user specifications. The early validation of the smart energy platform further underscores the project's success.
Amid these achievements, the RoLA-FLEX journey continues, with a focus on OPV innovation and fostering partnerships. We can't wait to share more advancements, now that the project is coming to its final stage!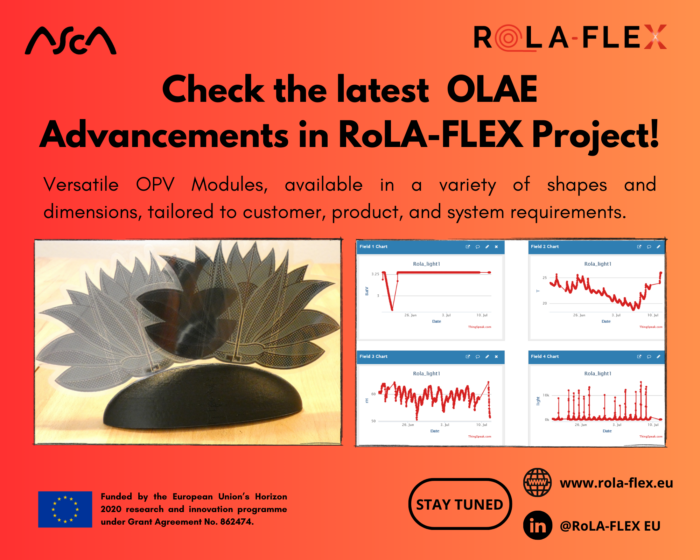 Know more about the project visiting our official website.  
Keep up to date on our official LinkedIn channel!