On the 27th of October, in the scope of the RoLA-FLEX project, the online webinar on Next-Generation of Flexible and Wearable Electronics was organised.
Moderated by AMIRES, it was a successful morning (the webinar took place from 10 AM to 1 PM CET), with very fruitful discussions on the future of these next-gen technologies.
The real added value of this webinar has been the presence of great speaking guests, who shared their experience and knowledge gained by many years of working in these fields and by the work developed in the RoLA-FLEX project. In the pictures below you can find the agenda with the presentation titles and a picture with all our guests.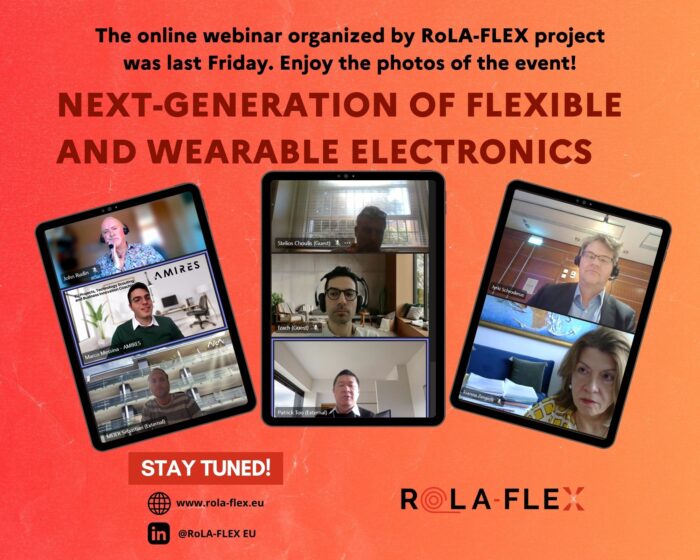 Dr. Filimon Zacharatos, Scientific Researcher advanced materials laser processing at the Department of Applied Physics and Prof. Ioanna Zergioti, Head of Materials and Laser MicroProcessing group, both working at the National Technical University of Athens, at the forefront in laser additive manufacturing and laser bioprinting.
Patrick Too, Senior Principal project Lead & Technology Transfer at FlexEnable, worldwide leader in organic electronics, flexible displays, sensors, and optics.
Prof. Stelios Choulis, Professor of Materials Science and Engineering at Molecular Electronics and Photonics (MEP) Research Unit of Cyprus University of Technology, specialising in inorganic electronic materials and device components and organic photovoltaics.
John Rudin, Founder of Folium Optics, specialising in innovative liquid crystal display and plastic electronics systems, and Epinal Ltd, specialising in electro-chemical biosensors.
Sebastian Meier, Vice President Corporate Development & Technology at ASCA, one of the world leaders in the field of organic photovoltaics.
Jyrki Sroderus, Director of research and immaterial rights at Polar Electro, one of, if not the, largest sports watch provider in Europe, specialising in wearable electronics, especially smart watches, and sensors.
With the great expertise of our speaking guests, the open panel discussion at the end of the webinar opened some interesting insights.
If you are interested in re-watching the webinar, you can contact us through our LinkedIn page and we can share with you the recording! 
More updates on our website!