We are delighted to announce that RoLA-FLEX will be presented in the upcoming Euro Nano Forum 2023 event from the 11th until the 13th of June in Lund, Sweden!
Under the Swedish Presidency of the Council of the European Union in the first half of 2023, the EuroNanoForum2023 conference will address Nanotechnology and Advanced Materials for a sustainable Europe.
Our Project Manager & Dissemination Manager from AMIRES, Lenka Bajarová & Marco Messina, will be there to showcase RoLA-FLEX results and developments on the conformal laser printing and sintering of silver nanoparticle inks for the digital and additive manufacturing of organic Organic Thin Film Transistors (OTFT) involved in the next generation of organic displays and ITO-free Organic Photovoltaics (OPV).
If you are interested and wish to know more about the progress of the project, do not hesitate to visit us at the exhibition and take a look at our materials.
Also, take a look to our abstract below!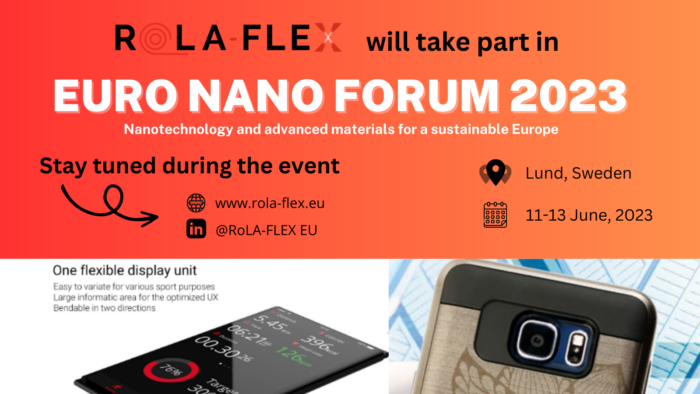 To learn more about the Euro Nano Forum 2023 and its agenda, visit their website here!
Don't forget to follow our project page to stay updated on all our latest events and developments: